Bentonia Blues
Bentonia, MS 1993
A black cat stares out from the front porch of blues singer Jack Owens as he plays his dark and haunting blues with harmonica accompanist Bud Spires. Owens, whose canon of songs comes from the minor-keyed Bentonia tradition made famous by the delta legend Skip James, sings in his signature song, "It must have been the devil that changed that woman's mind/I'd rather be the devil than to be that woman's friend." Songs in the Bentonia tradition are suffused with brooding images of the supernatural. Robert Johnson drew from this tradition in composing his most haunting blues, "Hellhound on my Trail."
Sun Session Man Mose Vinson
Memphis, TN 1995
Mose Vinson was one of the last practitioners of genuine barrelhouse blues piano. Originally from Holly Springs Mississippi, Vinson moved to Memphis in 1932 and played jukes and house parties through the 1940's. In the early 1950's Vinson worked as a clean-up man at Sun Studios in Memphis. Between recording sessions, Mose would sit at the piano and play "44 Blues" so often he eventually convinced Sam Phillips to record him in 1954. In addition, he also appeared on records by James Cotton, Walter Horton, Joe Hill Louis and others, although his own Sun sides went unreleased for 30 years. Mose's first full-length CD was finally released in 1997. He spent the last two decades of his life as an ambassador for Memphis Blues, primarily playing educational and cultural festivals associated with the Center for Southern Folklore. Vinson died from diabetes in Memphis in 2002.
Jukin' at Thompson Grocery
Bobo, MS 1995
The Thompson family ran a general store in the majority African-American town of Bobo for over 40 years. On nights when hometown blues man Robert Walker would show up from his home in Bakersfield, CA, the little shotgun-shack store would be transformed into a rollicking juke joint, often until the pre-dawn hours, in much the same way rural homes and businesses became the social centers of plantation life throughout the 19th and 20th centuries. Bobo resident Debra Hooks, seen here, worked at the store until it burned in December of 1996. Hooks is a mainstay of the Clarksdale/Bobo area live music scene. "When I hear good music, I've got to get up and dance," says Hooks, "I don't care if I'm the only one dancing, I've got to have my music."
David Johnson
Elba, AL 1996
Until his death in 1997, guitarist/harmonica player/folk artist David Johnson played Delta-style slide guitar at his home in Elba, AL on an old Stella guitar. Slide guitar technique is thought to have developed from a rudimentary single string African instrument played by sliding a bone or rock the length of the string. In the American South, a similar child's toy called a "diddley bow" often served as the first musical instrument for aspiring young blues players in the Delta. Mississippi blues artists used the slide as a way to mimic the human voice and have their instrument "talk" back to them in a call-and-response style often associated with the black church. It's use spread throughout the country with players using everything from broken bottle necks to knives to produce the distinctive, ethereal sound of genuine Delta blues.
Jimmy and friend
Leland, MS 1995
While local legend Little Bill Wallace plays a slow blues in the style of his friend and contemporary B.B. King, a couple dances on a Sunday night at Boss Hall's juke joint. The small town of Leland has been produced or been associated with many notable blues men including Son Thomas, Pat Thomas, Jimmy Reed, Willie Foster, Eddie Cusic, Tyrone Davis, Johnny and Edgar Winter and Little Milton.
B.B. King at Club Ebony
Indianola, MS 1994
Not only is B.B. King the most famous living blues man, he is one of the best known music personalities in the world. King came of age in Indianola, MS where he drove a tractor on a cotton plantation, playing gospel and blues on the street corner for tips. He left for Memphis where he became a D.J. for WDIA radio and then began his long and successful recording career. King has taken his blues all over the world and still returns to his home town every June to give a free concert to the folks back home. B.B. is seen here performing at the club Ebony, an Indianola club he as played his entire career and where he met his second wife. King now owns the iconic club.
Cotton
Shaw, MS 1995
Through his late 70's, James Burgs still hand-picked most of the cotton he and his wife Elvie grew on their small farm in the central delta. With the introduction of the mechanized cotton picker at Hopson plantation in the 1940's, the need for mass labor in the Delta dwindled sharply, leading to the greatest internal migration in our nation's history as blacks moved North in search of economic and social opportunities. By the 1960's, virtually every cotton farm in the South had gone mechanical, leaving only isolated individuals still farming in the ways of their slave ancestors. By the end of the 20th century there were only a handful of farmers still hand-picking cotton and today there are none, where as, at one time they numbered in the tens of thousands. James Burg said that he and his wife handpicked because that's the way they came up, they enjoyed working and besides, they got a higher price for "clean" cotton. A season's cotton harvest of 1-2 500 lb. bales often yielded less than $1,000 for the Burgs.
Baptism II
Moon Lake, MS 1997
A group of baptism candidates make their way carefully over loose stones to the edge of Moon Lake, an oxbow of the Mississippi near Lula, MS. Small churches in the Lula/Friars Point area gather in the fall to baptize candidates in the lake just as they have for over one hundred years. The great migration of blacks from the Delta in the 1940's and 50's resulted in a dramatic decline in the Delta population, impacting church congregations to the point that many churches were abandoned. Today's Delta churches now pool their resources to help keep tradition alive. Baptisms are usually attended by members of 3 to 6 different congregations.
Deacon Allen Moore
Moon Lake, MS 1995
Moore wears the dark, gathered robes of his title as he bows his head in prayer during a baptism service at Moon lake near Friar's Point, MS. The service is conducted by a group of reverends and deacons from various churches who take turns leading prayers and who individually baptize new members into their respective congregations. The service is underscored by emotional, a cappella singing lead by women in the congregation.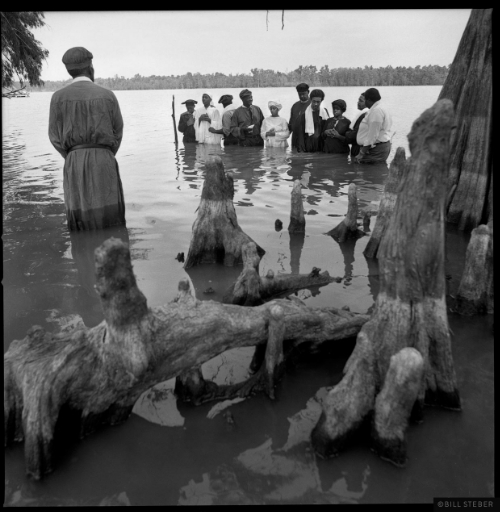 Baptism 1
Moon Lake 1994
While most contemporary churches have abandoned river and lake baptisms in favor or indoor baptismal tanks, the rural congregations of the Northwest Delta still gather together on the first Sunday in September to baptise yearly candidates in Moon Lake, just as they have for generations. It is at these baptism ceremonies where one can still hear spirituals sung in a style that predates modern gospel music. Songs are begun spontaneously by women song leaders and the congregation sings the lines as they are introduced in the classic call and response style which is the hallmark of African-American music, from spirituals to work chants to blues and jazz.
Tent Revival, Rehoboth Church of God in Christ
Clarksdale, MS 1994
As music and dance reach a crescendo during a summer tent revival service in Clarksdale, MS, a worshipper known as "Mother Brown" is overtaken by the spirit and lies on the ground in ecstatic revelry. Such displays of faith and emotion are common in Pentecostal denominations in the South, where worshippers become overtaken, or baptized, in the Holy Spirit, often engaging in glossalalia, or speaking in tongues, as external evidence of their holy possession. Conversely, many of the church faithful in Mississippi beleive that to devote one's life to playing the blues is to sell your soul to the devil.
Sunday Night at Boss Hall's
Leland, MS 1995
Music enthusiast Theresa Norals responds to the opening chords of a favorite song during a Sunday night blues jam session of Greenville musicians at a neighboring Leland, MS club. Sunday night is as popular a night for socializing and listening to live blues as Friday and Saturday night in the Delta, with some patrons going straight to the club wearing clothes from Sunday night church services. Although Southern ministers have always preached against attending the devil's services in juke joints, more than one observer has noted that both gospel and blues share a common origin and each of them seek to give comfort and release from life's troubles.
David "Honeyboy" Edwards
Chicago, IL 2008
David "Honeyboy" Edwards life traces the history of the blues like it had been scripted by Hollywood. Born into the world of Jim Crow and sharecropping in Shaw, MS in 1915, Honeyboy used music as an escape from that life. He started hoboing and hustling, learning from older men like Big Joe Williams. In the course of his travels, he met and befriended many luminaries of blues lore including Charlie Patton, Peetie Wheatstraw, and Tommy McClennan. He was with Robert Johnson on that fateful night at Three Forks Store when Johnson was reputedly poisoned by a jealous husband; he later died "barking like a dog." Edwards recorded for Alan Lomax of the Library of Congress in 1942, and moved to Chicago, where he played with Little Walter and the other legends of the Chess era. Edwards' autobiography of his amazing travels is entitled The World Don't Owe Me Nothing. The death of Honeyboy in 2011 marked the closing of a chapter in American music as the world lost its last living link to the generation of blues artists who made records before WWII.
Jessie Mae Hemphill
Como, MS 1995
Blues guitarist/singer Jessie Mae Hemphill's upbringing was steeped in Mississippi Hill country musical traditions taught to her by her grandfather Sid Hemphill, aunt Rosa Lee Hill, and her extended musical family. Female blues guitarists of Hemphill's generation are rare because of the social strictures and danger associated with the lifestyle. Jessie Mae, however, has always known how to take care of herself in a hostile world. "My mother carried her gun all the time," says Hemphill. "She was a pistol-packing mama so I'm a pistol-packing mama." Jessie Mae fired her mother's pistol for the first time at age nine, gunning for an 18 year old boywhom she thought was her boyfriend as he passed by her house with his 19 year old girlfriend. "I shot at that boy FIVE times. They were RUNNING! He run off and left his hat. She broke the heel off her shoe. And the only thing that saved them was they were going down a hill and I shot into a bank [of ground]," Hemphill says with a laugh. Jessie Mae is also well-versed in folk magic and matters of the spirit realm.
Parchman Penitentiary work gang
Parchman, MS 1996
Parchman Penitentiary is located on 20,0000 acres in the heart of the Delta and since the turn of the century, it has remained one of the most feared institutions in the state. A totally self-contained working farm and miniature city, Parchman is the "county farm" referred to in dozens of blues songs written through the years. William Faulkner called Parchman "destination doom" and author David Oshinsky described it as "the quintessential penal farm, the closest thing to slavery that survived the civil war." It was in prisons like Parchman that the work chant, a series of rhymed song couplets used to synchronize mass work, survived the longest. The work chant used the African American musical call and response style as it's base and the song leader's use of off-color lyrics and spontaneous creativity were archetypes that found widespread use in the blues.
Bird
Stovall, MS 1995
A young girl plays with a dead bird shot by her uncle at their home on the Stovall plantation outside Clarksdale, MS. Blues legend Muddy Waters was living in a cabin a few feet away from this site when he made his first recordings for Alan Lomax of the Library of Congress in 1941. Two years later, Waters moved to Chicago where he made the pivotal Chess recordings that urbanized country blues and laid the foundation for rock and roll. In July of 1949 Muddy sand: "Hello canary bird, this is a letter home/ Well I want you to fly the whole world over/ And find out how my baby been getting along/ Well canary bird when you get to Clarksdale, fly down on second street/ Well you know I don't want you to stop flying/ Until you take the letter out to Stovall for me/ Fly on canary bird fly on."
Son Thomas
Leland, MS 1993
A former grave digger and day laborer, James "Sonny Ford" Thomas became internationally known as much for his highly evocative folk art of skulls, corpses and animals as for his talents as a blues artist. In song, Thomas often celebrated "61 Hwy" which runs from Chicago to New Orleans, passing a few hundred feet from the front door of his modest shotgun shack in Leland, MS . Of Thomas' music, William Ferris wrote in his 1978 book Blues From The Delta: "Rural blues men like [Thomas] describe isolation with stark images like an empty room or a highway in the Mississipi countryside." Thomas was known for his wavering, falsetto voice. Thomas sometimes created folk art that was said to possess supernatural powers, like the "gypsy men" which could act as spirit guides. It could be said that all of Thomas' art works, regardless of their actual connection to the spirit world, possessed a haunting, other-worldly quality.
Splitting the Storm
Shaw, MS 1998
James Burgs brandishes a double-bladed axe against an approaching winter storm on his central Delta farm. An African-American folk belief dating back to slavery holds that a threatening storm cloud can be "split" by striking an axe in the ground in the storm's direction. "The old folks used to trust in the Lord and get an axe and go out there where the wind was blowing and stick an axe in the ground," said Burgs. "Been a many wind storm come by, cloud up, look bad. I take the axe out there and in 15 or 30 minutes, look like it goes around yonder way." Burgs was one of the few Mississippians who still follows what he calls the "signs of the old people."
Guitar Evangelist Cora Fluker
Marion, MS 1996
Fluker lived at the end of a dirt cul-de-sac outside Meridian, MS surrounded by her children and their families. She built herself a small church with scrap building materials next door to her home where on Sunday, she preached using her guitar to play repeated phrases beneath emotional, spontaneously-created songs that preach the word of God. She was equally adept at the traditional vocal technique she called "moaning" which is sung acappella and mixes heartfelt testifying with a deeply-moving vibrato voicings. This type of singing was common in African-American churches in the South until modern hymns began replacing it starting in the 1940's.
Hellhound
Ebenezer, MS 1997
Lonnie Pitchford holds a dog skull found near the porch of a juke house he used to play in as a teenager. Until his death at age 43 in November of 1998, Pitchford was the most masterful interpreter of the music of Robert Johnson. Like Johnson, Pitchford was a shy genius whose musical gifts set him apart from his contemporaries. Pitchford's approach to his music came from his immersion in and understanding of the same rural Mississippi culture that produced other great blues men of the past, a modern rarity considering that most bluesmen of his generation, both black and white, no longer come from the original culture that produced the Blues. Also like Johnson, Pitchford lived his life on a self-destructive path as if being pursued by supernatural forces. In Robert Johnson's most haunting song, "Hellhound on my Trail," he sang "Got to keep moving, got to keep moving/ Blues falling down like hail, blues falling down like hail/ And the day keeps on 'minding me/ There's a Hellhound on my trail, Hellhound on my trail."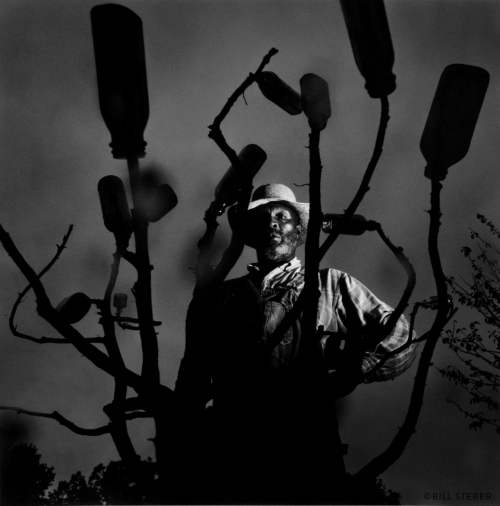 Frank and Bottle Tree
Union Church, MS 2002
Frank Clark stands behind a bottle tree in his front yard in Union Church, MS. Once a common site in the Southern landscape, the bottle tree's origins go back to the 9th century Congo where hand-blown glass was hung on huts and trees as a talisman against evil. The practice consists of removing the foliage from a tree (preferably a cedar because all the branches point heavenward) and placing the tree in the yard of the house. The bare branches are then covered with colorful glass bottles that attract any evil spirit that may be lurking near the house. The spirit becomes mesmerized by the play of sunlight through the colorful glass and becomes trapped inside the bottle. When the wind blows past them, the moans of ensnared spirits can be heard whistling on the breeze.
9 Foot Sacks
Abbeville, MS 1996
Floyd Hollman and Leona pick cotton with traditional 9-foot sacks on Hollman's farm in Abbeville, MS. The introduction of the mechanical cotton picker in the 1940's marked the end of an era in American society. Many African-Americans, no longer needed for large-scale hand-picked cotton farming, left Mississippi in search of opportunity in the North. by the mid-1990's, only a handful of farmers were harvesting cotton in the manner of their slave and sharecropper ancestors. Octagenarian Floyd Hollman owned his own land and still hand-picked at least part of his crop every year to keep his stamina up. "I used to be able to pick over 300 pounds of cotton a day" said Hollman, "But now I can only get about 100 pounds."
Pick Jesus
Marks, MS 1994
A large a module of cotton (actually containing a number of traditional 500 lb. "bales") sits along hwy. 6 near Marks, MS, waiting to be taken to a nearby cotton gin for processing. Roadside pronouncements such as "Get Right With God," and "Jesus Saves" have long been a common site along Southern highways. Though seemingly naive exclamations of faith, they are actually appropriate considering the sometimes stark simplicity of fundamentalist religion with it's emphasis on simple white churches and similarly unadorned religious teachings. The double meaning of painting "Pick Jesus" on a large tomb-like bale of fresh white cotton gives the message an added resonance.
Pat Thomas
Leland, MS 2001
Pat Thomas, son of the late Delta legend James "Son" Thomas, is reflected in a mirror at his home in Leland,MS. Pat is attempting to follow in his father's footsteps. Like his father, Pat has worked at many jobs including grave digging. He spends his time focusing on his father's music, singing in the same falsetto voice that made "Son" Thomas internationally known. And like his father, Pat is becoming known for his evocative clay sculptures depicting skulls, animals, and "gypsy men" which, according to Thomas, possess supernatural power.
Storm
Lake Cormorant, MS 1993
A summer storm bears down on farmer W.C. Miles as he chops weeds on a North Delta plantation in Lake Cormorant, MS. Miles' father Willie Coffee was a musician who learned guitar from Robert Johnson and Son House, playing with them at parties in the North Delta. House made some of his earliest recordings at Clack's store in Lake Cormorant, including the haunting "Death Letter Blues" which began: "Got a letter this morning, how you reckon it read?/ Said 'Hurry, hurry, Gal you love is dead'/ Grabbed up my suitcase, took off down the road/ When I got there, she was laying on the cooling board/ I walked up close, looked down in her face/ Said farewell honey, I'll see you judgement day/ Woke up this morning, just a little 'fore day/ Hugging the pillow where my good gal used to lay."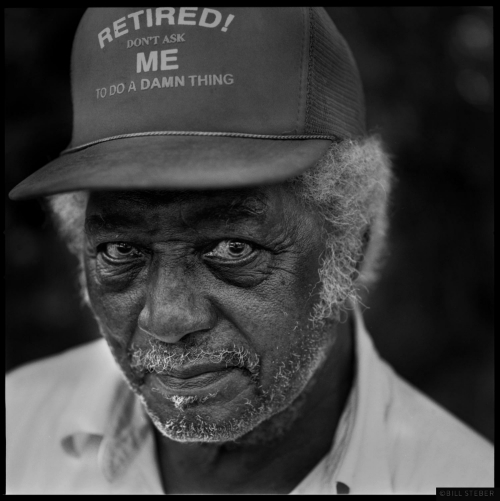 R.L. Burnside
Holly Springs, MS 2004
R.L. Burnside, known as "Rule" in the Mississippi Hill Country where he was born and raised, played a blues guitar style distinctive from his contemporaries in the Delta. Influenced by fife and drum music and the guitar style of Fred McDowell, Burnside's music had a percussive, driving rhythm that marked the hill country guitar style. Burnside spent most of his life sharecropping and raising a large family, only playing music on the weekends for local parties. In 1967 he made his first recordings for George Mitchell, which put him on the blues festival circuit, but it wasn't until his 1995 collaboration with noise rocker Jon Spencer, Ass Pocket of Whiskey, that Burnside reached a wide audience with his music. In the last ten years of his life, Burnside became an elder statesman for alternative rock fans as much as those in the blues community, releasing a series of experimental blues re-mix albums and appearing on-stage with the North Mississippi All-Stars at Boneroo. R.L.'s sons are keeping his music alive in true Burnside style.
Doll Head
Bobo, MS 1995
The head from a child's doll rests between rows of cotton in a field adjacent to a burned-out sharecropper shack in Bobo, MS, a silent symbol of the Delta's haunted past. Although few Mississippi blues artists have ever recorded music that openly protested the harsh living conditions of blacks in the South, a notable exception is J.B. Lenoir from Monticello, MS (1929-1967) . In his recording "Born Dead," Lenoir sings:" Why was I born in Mississippi/Where it's so hard to get ahead?/ Every black child born in Mississippi/ You know that poor child was born dead/When he came into the world/The doctor spanked him the black baby cried/Everybody thought he had life/That's when the black baby died/He will never speak his language/The poor baby he will never speak his mind/The poor child will never know his mind/Why in the world is he so poor?"
Otha Turner
Gravel Springs, MS 1997
African fife and drum music was historically at the center of black musical and social culture in the North East Mississippi hill country and other Southern communities dating back to the birth of the nation. But with the passing of time and traditions, master fife player Otha Turner, seen here in his mid 90's, headed one of the last African fife and drum bands in America. Turner taught the music to his grandchildren in the hopes that future generations will perserve one of the oldest known forms of African American folk music. Granddaughter Sharde Thomas leads the family fife and drum band.
Abe "Cag" Young
Senatobia, MS 1993
Drummer Abe "Cag" Young learned drumming as a child by beating on an old gas tank in his front yard. Now in his late 60's, Young was one of a handful of musicians in the Northeast Mississippi hill country that kept alive the centuries-old African fife and drum tradition. His father Lonnie and uncle Ed Young were among the first musicians of this music to be recorded in 1940 and 1957 by folklorist Alan Lomax for the Library of Congress. Cag Young played for most of his musical career with fife player Otha Turner and other drummers at rural hill country picnics as well as at blues festivals in the US and Europe.
Junior Kimbrough
Chulahoma, MS 1993
Hill country blues guitarist David "Junior" Kimbrough performs at his juke joint in rural Marshall Co. on a Sunday night in late 1996. Kimbrough last performed in early 1997 when an illness forced him to retire from music. He died in January of 1998. Kimbrough was an innovator who combined the traditional elements of hill country blues, (droning, emphatic rhythms and powerful beats) with his own eclectic musical sensibilites to create a music that redefined hill country guitar style.
Cedric Burnside
Potts Camp, MS 2006
Son of drummer Calvin Jackson and grandson of blues legend R.L. Burnside, drummer Cedric Burnside grew up steeped in North Mississippi hill country blues tradition, and began his professional career touring with his grandfather at 13. The younger Burnside has recorded and played with a diverse array of artists including Junior Kimbrough, Kenny Brown, the North Mississippi All-Stars, Burnside Exploration, Bobby Rush and Widespread Panic. In 2006 Burnside appeared in the film "Black Snake Moan" alongside Samuel L. Jackson, whose role was largely inspired by R.L. Burnside. It was around this time that Cedric Burnside teamed up with guitarist Lightnin' Malcolm, releasing their first album "Juke Joint Duo" to wide acclaim. After years of touring with Malcolm, Burnside now leads his own group, "The Cedric Burnside Project," and has branched out as a vocalist and guitarist. Cedric Burnside is regarded as one of the best living blues drummers, continuing the Burnside legacy started by his famous grandfather.
Moonshine
Gravel Springs, MS 1998
A reveler holds up a mason jar of Panola Co. moonshine early in the afternoon of a fife and drum picnic. Mississippi was one of the last states to repeal the national prohibition laws and as the result, rural areas still abound with corn whiskey as locals still have a taste for the homemade liquor.
Gatemouth Moore
Bentonia, MS 1999
The Rev. Gatemouth Moore was born in Topeka Kansas in 1913, but was raised in Memphis. Moore started his professional singing career when he moved from Memphis to Kansas City, MO in 1930, singing for bandleaders Bennie Moten and Walter Barnes. He quickly became a renowned "blues shouter" in the Count Basie-led Midwestern blues scene. He is best known for having penned the songs "Have you ever loved a woman?" (recorded by B.B. King and Charles Brown), "I ain't mad at you, pretty baby" and "Somebody's got to go," and he claims to have been the original Buckwheat on the "Little Rascals". By 1949, Moore became an ordained minister and devoted the rest of his long life to Gospel music. He was the subject of a 1992 documentary about blues and gospel called "Saturday night, Sunday morning" and a year before his death , he appeared in the Richard Pearce's "Road to Memphis" as part of the Martin Scorsese blues film series.
Dancers at Po Monkey's Lounge
Merigold, MS
Po' Monkey's place, located amid cotton fields two miles down a dirt road outside Merigold, MS, is perhaps one of the last old-style country jukes in the Delta. It's been operated by tractor driver Willie "Po' Monkey" Seeberry for more than 30 years in a turn-of-the-century sharecropper's shack where Seeberry lives. The juke packs in customers every Thursday night to dance, drink beer, and eat fish, ribs and pork chop sandwiches prepared by his ex-sister-in-law, Irene Johnson. Just as in the boom days of the Delta, the shack is owned by Seeberry's white employer who allows him to run the club out of his home for extra money and to provide a social outlet for locals. Po' Monkeys Lounge draws in whites and blacks throughout the Delta who enjoy partying in the country, listening to good blues and eating good food.
Lonnie Shields
Bobo, MS 1994
Lonnie Shields is among the younger generation of Mississippi blues men keeping the music alive. Originally from West Helena, Arkansas (considered an extension of the Mississippi Delta due to it's musical heritage), Shields has honed his craft and performance style paying his dues in small Mississippi clubs like this country store/juke joint in Bobo, MS. Shields started his career learning from traditional musicians like Big Jack Johnson, Sam Carr and Frank Frost, but he also brings in more modern R&B and soul influences into his music. Like many ambitious young performers before him, Shields has left the South to concentrate on his musical career from his home base in Pennsylvannia.
Smitty's Red Top Lounge
Clarksdale, MS 1998
A woman dances to the blues while local musician John Holmes sits in with the Wesley Jefferson Band at Smitty's in Clarksdale, MS. Smitty's Red Top Lounge is one of the longest surviving juke joints in Clarksdale. Blues performers have always emphasized the sexual lure of their music in performance, often focusing on a single woman in the crowd to taunt and tease. In his book The Land Where the Blues Began, folklorist Alan Lomax describes a scene he observed there in the 1940's: "The blowsy dancer opened her eyes, flung her arms around the singer's neck...His fingers ran down to the bottom of the keyboard and the notes spurted up like a crystal fountain. Pressing his powerful body close to one of the young women...The girl gave a squeal of pleasure."
Willie King at Betty's Place
Prairie Point, MS 2000
Willie King is a rarity in the Mississippi blues tradition. Born in 1943 in Prairie Point, MS, and raised by grandparents, King struggled to survive in variety of jobs from plowing mules, working in sawmills and working as a traveling salesman. But what makes King's story different from so many others, is that he took his experience and not only expressed it through his art, but also through social activism, forming the "Rural Members Association" to aid poor rural blacks along the Mississippi and Alabama border and making himself "a field hand turned Field Marshall" in the process. Alongside his band, "The Liberators," King sings "struggling songs," expressing the harsh realities of life that many blacks endure while at the same time creating exciting, groove-laced traditional blues that are neither preachy nor overly didactic. "The blues have always been part of me," says King on his 2002 release, "Living in a New World". "I live it every day. And it's about love—sharing, helping each other, caring for one another, thats what the blues life is all about. I'm holding on to the blues life, because I found out that it's a good life to live. I just want to keep passing it down."
Charles "Cadillac" Caldwell
Coffeeville, MS 1999
Charles Caldwell tunes an ancient hollow-body electric Gibson guitar reflected in the chrome of one of his many Cadillacs at his home in Coffeeville, MS. Caldwell, like the great majority of bluesmen in Mississippi, has spent his life entertaining at local fish fries, jukes and house parties for little or no money, entertaining local audiences with no great aspirations for fame. But it's musicians like Caldwell in small communities throughout Mississippi that have kept the art form alive while providing entertainment for locals and a modicum of fame for themselves.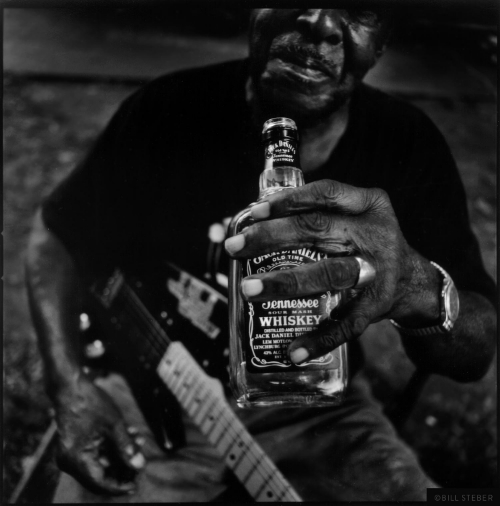 T Model Ford
Greenville, MS 2001
T-Model's blues credentials are impeccable; if anything he's over qualified. He was born James Lewis Carter Ford in Forrest, a small community in Scott County, Mississippi. He was plowing a field behind a mule on his family's farm by age eleven, and in his early teens he secured a job at a local sawmill. He excelled and was later recruited by a foreman from a bigger lumber company in the Delta, near Greenville, and eventually got promoted to truck driver. Between that and working in a log camp T-Model was sentenced to ten years on a chain-gang for murder while defending himself after a knife attack in a juke joint. He lucked out and was released after serving two. He says, grinning, "I could really stomp some ass back then, stomp it good. I was a-sure-enough- dangerous man." When asked how many times he'd been to jail, T-Model responded, "I don't know. How many?" He seemed to think it might be a trick question. Upon realizing it wasn't, he answered to the best of his ability. "Every Saturday night there for awhile." T Model began playing music late in life when an ex-wife gave him an electric guitar before leaving him. It didn't take him long to develop his own unique style of Mississippi blues. T Model's music is marked by an infectious good-time groove that he can happily play for hours without break. [from Fatpossum.com]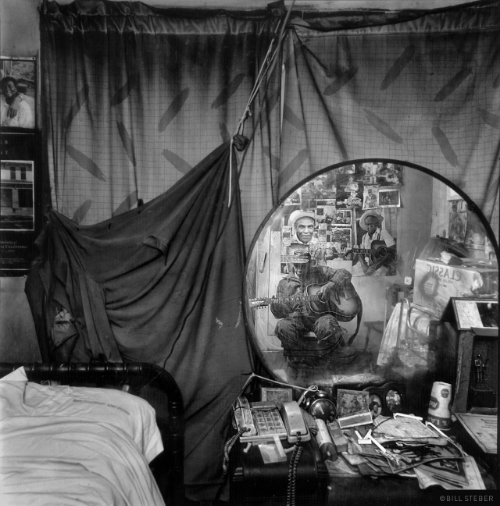 Jack Owens
Bentonia, MS 1995
Born in 1904, bluesman Jack Owens was a musician contemporary with many of the first generation to record although he didn't make his recording debut until late in life. His music consisted primarily of songs made famous by his childhood friend, Skip James. Owens methodically picked out songs such as "Devil Got My Woman" and "Killing Floor Blues" in a minor key while singing in his haunting falsetto. Unlike James, Owens never left the Bentonia area with his music until the last 10 years of his life when he played across America and Europe. He was also a recipient of a National Heritage fellowship award given by the federal government for his work in keeping folk traditions alive. For years afterward until his death, Owens kept the entire $10,000 prize hidden in a pouch under his shirt.
Scott Dunbar
Woodville, MS 1994
Musician Scott Dunbar sits on his front porch in Woodville, MS, abstracted by the screen of his front door. Dunbar was unique in his development as a blues singer in that most of his musical career was spent entertaining at white gatherings near his Lake Mary home on the Louisiana border rather than at African-American jukes and fish fries. The son of a former slave, Dunbar taught himself music at age 8 on a home-made cigar box fiddle and spent his working life as a fisherman and river guide. Though Dunbar's recorded output was limited, he fills an important niche in the development of the blues with his child-like, falsetto singing and lilting guitar work. Dunbar's only album, "From Lake Mary," originally recorded for the Uruhu/Mazda label in New Orleans, has been re-released on CD by Fat Possum records.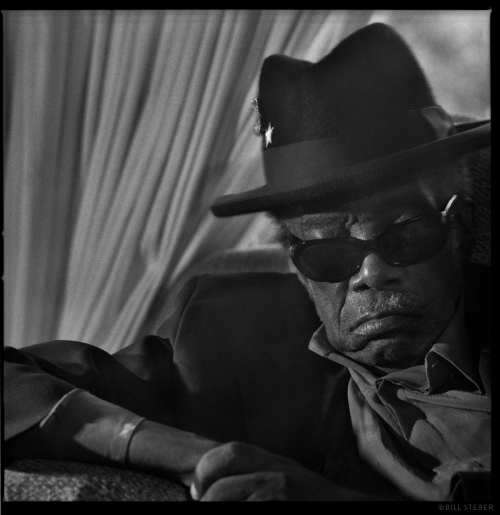 John Lee Hooker
Redwood City, CA 1999
Blues legend John Lee Hooker relaxes in his Northern California home in the fall of 1999. Born in the heart of the Delta, Clarksdale, MS, in 1917, Hooker left for Memphis as a teenager and spent seven years in Cincinnati before landing in Detroit in 1943. It was there that Hooker brought his droning, trance-boogie sound to the thriving blues club-scene on Hastings Street. Five years later he recorded his seminal "Boogie Chillen" for Modern records and landed himself a surprise number one hit on the R&B charts. In the ensuing years, Hooker recorded many more songs that defined blues in the post-war era, including "Crawling King Snake," "In the Mood," "Dimples," and "Boom Boom," among numerous other classics. His career continued gaining speed for the next 5 decades as Hooker recorded with blues and rock stars whose fame rarely outlasted his own increasing legend. 1980 he appeared as himself in the best-known pop-culture blues film of all time, "The Blues Brothers." Hooker continued releasing critically acclaimed recordings up until 1997. Hooker died of natural causes in California in 2001, leaving a legacy as one of the most enduring legends of American music in the 20th century.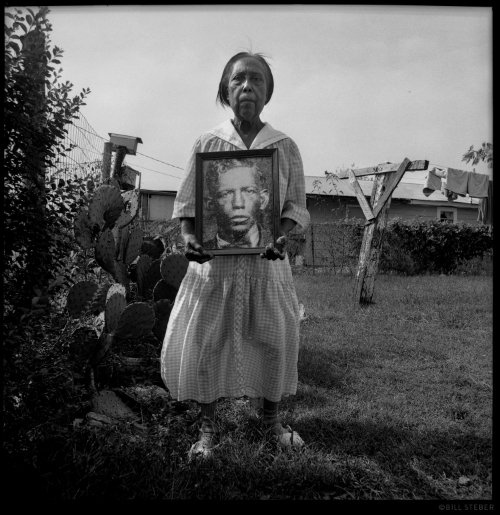 Rosetta Patton Brown
Duncan, MS 1996
Rosetta Patton Brown, the last surviving child of blues legend Charlie Patton, stands in the front yard of her home in Duncan, MS with a copy of the only known photo of her famous father. Patton, a slight man with a booming voice that belied his size, was the first star of the Mississippi country blues, recording dozens of sides for Paramount and Vocalion in the late 20's and early 30's. His flamboyant performing style and brilliant guitar technique were precursors to later stars like Jimi Hendrix and the rapid sale of his records, together with those of Blind Lemon Jefferson of Texas, set off a wave of talent searches and recordings of other black artists throughout the South, thereby assuring rural blues' place in the catalogs of the fledgling music industry. Patton was arguably the most important and influential Mississippi blues man of his time. Rosetta died in Clarksdale, MS Sept. 13th 2014 at age 97.
Mississippi